Inside Trading Newsletter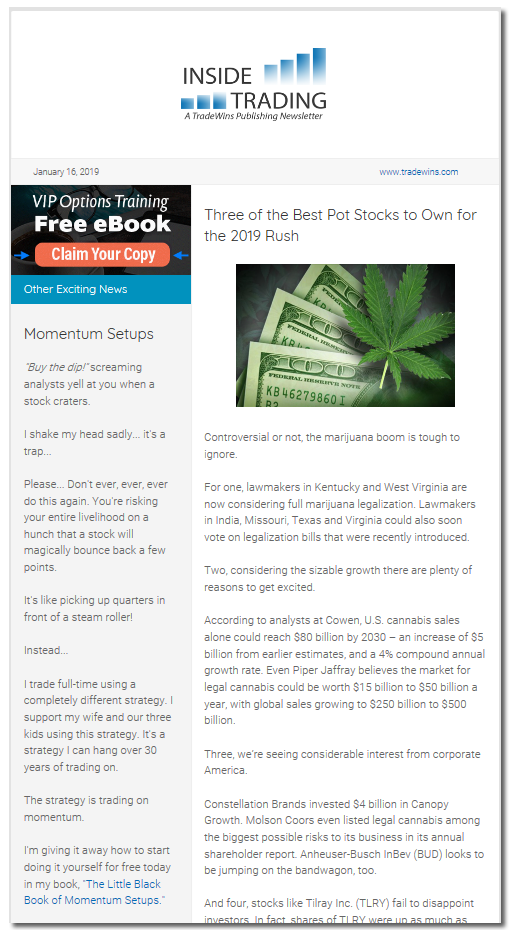 Welcome to Inside Trading
Our weekly newsletter is designed to provide you with helpful tips, timely articles and valuable investment growth information. We have a host of extremely talented writers such as Don Fishback, Russell Sands and Chuck Hughes who have all made their own fortunes, and now look to offer you the same opportunities.
Each week we will feature one of our trading authors and a tip from their famous strategies. There are several types of markets and trading styles; covering all bases will allow you to choose the most profitable trading avenue for you.
One New Trade a Week
We are proud to announce, since late 2017, we offer one new trade in every issue of Inside Trading - with excellent results. To get this trade FREE, please check back with this page or sign-up for our newsletter. The trade for this week is as follows:
Five Top Blood in the Street Opportunities to Own

The fear has become palpable. Panicky investors have sent major indices down thousands of points. Rational thought has gone out the window. All thanks to an invisible virus that's making its way around the world. Here are some of the top stocks that could recover well with plenty of patience...read more
We realize that you are overwhelmed with email on a daily basis. Therefore, we invite you to sample a few of our past issues before you sign-up. Please click on any of the following links to read more:
Aside from being free, there is absolutely no obligation. If you no longer wish to receive our communications, simply click "Unsubscribe" and you are immediately removed from our database. Give us a try, we are confident you will be pleased.